Roasted Butternut Squash Soup
This roasted butternut squash recipe is a hearty, fall soup recipe. Add some cayenne pepper for a little extra kick. Looking for another great vegetable soup recipe? Check out my favorite Lentil Soup recipe.
I love a big bowl of hearty soup in the fall! There's something about it that not only warms your belly but also warms your soul.
Each fall, I make different variations of my butternut squash soup. This weekend, I decided to make a version that's a little spicier with a little extra zest to it.
Recipe Notes
Roasting all of the vegetables and fruits before adding them to my InstaPot made a major difference. The flavors were more robust, and the consistency was just perfect.
I added turmeric and cayenne pepper this time around, and I love the flavor combination! The turmeric was a nice flavor addition to my original recipe; the turmeric quantity is such that the flavor is subtle, and the added health benefits of this spice make this dish even more well-rounded.
The cayenne pepper is optional, and you can even add extra if you'd like to kick it up a notch.
I used heavy whipping cream to give this soup more of a bisque quality, but you can eliminate this ingredient if you'd like to make it a vegan version. You could use arrowroot powder to thicken the soup to your liking. This would also make the dish Whole 30 compliant and paleo-friendly.
If you don't have an immersion blender, you can use a food processor to achieve the consistency you desire. If you don't have a kitchen gadget for blending, I'd suggest chopping everything smaller, roasting it for less time, and using the crockpot or slow-cooking it for slightly longer.
For toppings, I added some cheese, roasted butternut squash seeds, crispy turkey bacon, and a little cream and sage for garnish. This adds a little more texture when stirred up together, but this soup is also great without any toppings!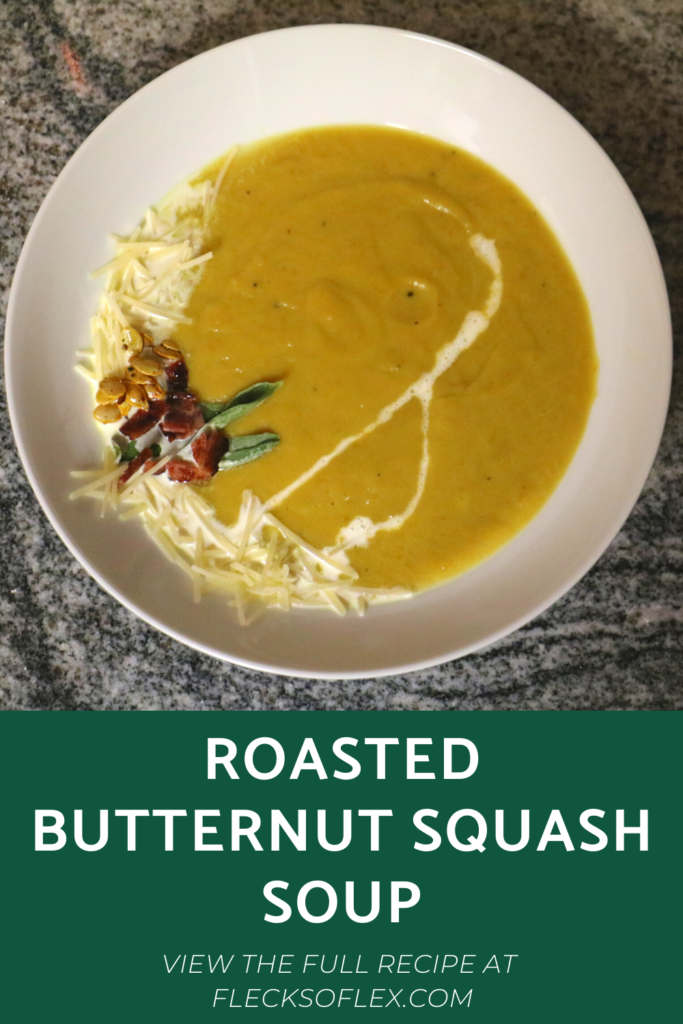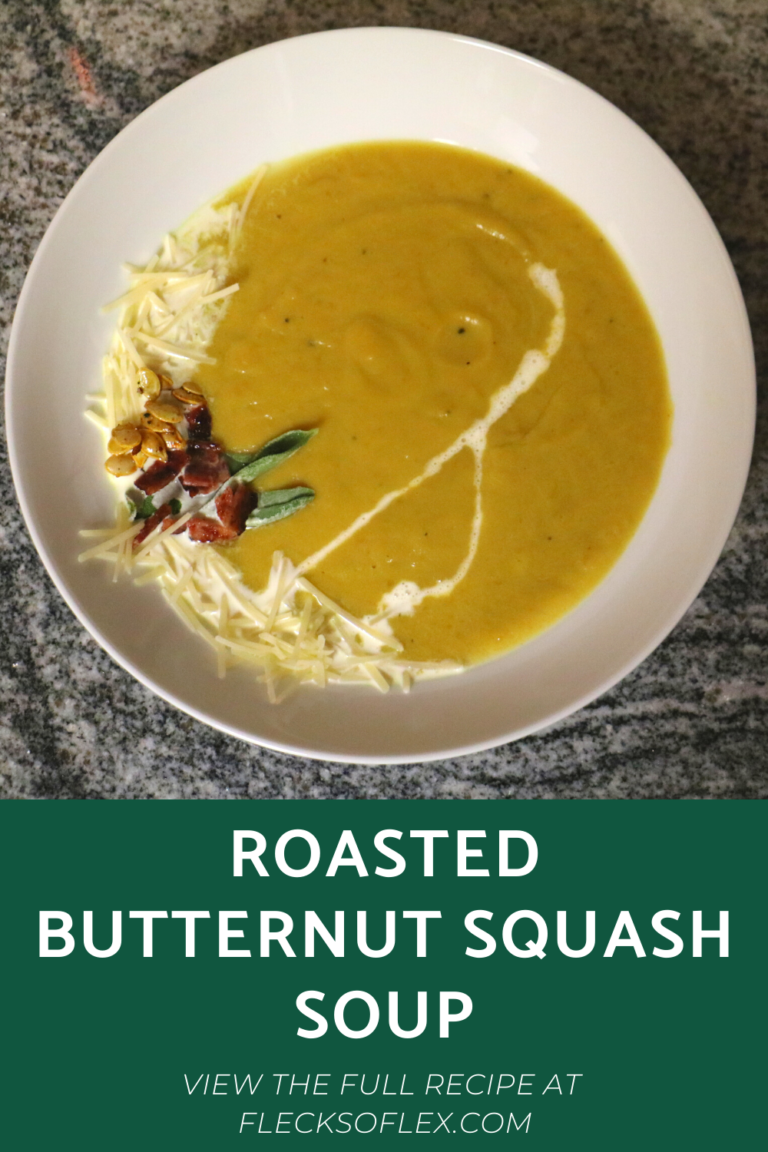 Roasted Butternut Squash Soup
This roasted butternut squash recipe is a hearty, fall soup recipe. Add some cayenne pepper for a little extra kick.
Ingredients for Roasted Butternut Squash Soup
1 butternut squash, halved
1 medium red onion, quartered
1 large green apple, cored and quartered
4 large garlic cloves, peeled
3 Tbsp EVOO, ghee, or butter
1/2 tsp turmeric
1 Tbsp fresh sage, minced
Salt and pepper, to taste
32-oz. chicken or vegetable stock
Optional: 1/2 tsp cayenne pepper
Roasted Butternut Squash Soup Instructions
Preheat the oven to 350 degrees.
Cut your fruits and vegetables.
In a small bowl, combine herbs and spices.
Cut the butternut squash in half and scoop out the seeds and strings.
On a baking sheet or in a roasting pan, grease your pan using EVOO, ghee, or butter.
Add butternut squash to the center of the pan.
Surround with green apple, red onion, and garlic cloves.
Drizzle with preferred oil.
Sprinkle seasonings across all fruits and vegetables in the roasting pan. Roast for about 45 minutes.
Remove from the oven.
Peel the butternut squash, and cut it into large chunks.
Add all roasted ingredients to a crockpot or Instant Pot.
Add 32 oz chicken or vegetable stock and 1-1/2 cups of heavy whipping cream to the pot.
Cook all ingredients until everything becomes soft.
Using an immersion blender or food processor, blend all ingredients until it is your desired texture. (Chef's note: I blended mine until it was the consistency of a bisque.)
Top with your favorite topping.