5 Things to Take to a Mud Run
My Mud Run Bona Fides
I have run a lot of races over the course of the history of this blog. I've run pretty much every distance between a 5k and a full marathon, and I've run on the road, grass, and natural surface trails. I've run overnight relays on trails, obstacle course races, and even races where we were bombarded with bubbles!
Running on roads versus trails is significantly different. Aside from the weather, road racing is a much more controlled environment. Trails offer their own set of challenges, and mud runs take it to the next level!
I love mud runs! I like getting dirty and having a good laugh with friends. I think mud runs get a bad rep, and so many of the bad things I hear about them aren't even based in reality! Or they're "user error" related!
Mud runs are often scheduled in such a way that you run during a specific time window, which can mean that other runners ran before you the day prior, or even for hours before you. Paying attention to weather conditions before the race is super important when you're participating in a mud run. Sometimes, you luck out and the mud dries up a bit, making it a bit easier. Other times, it might be extra slick because of rain, or because the race director has added more water in between time slots. There are so many variables in mud races, and while you can't prepare for all of them, you can try to set yourself up for success when faced with different scenarios.
Now, let me talk about the thing that brought you to this post – 5 Things to Take to a Mud Run!
Before I provide you with this list, I have to note that these things aren't required, nor are they the only things you should bring to a mud run. Nonetheless, I hope you find this list to be helpful!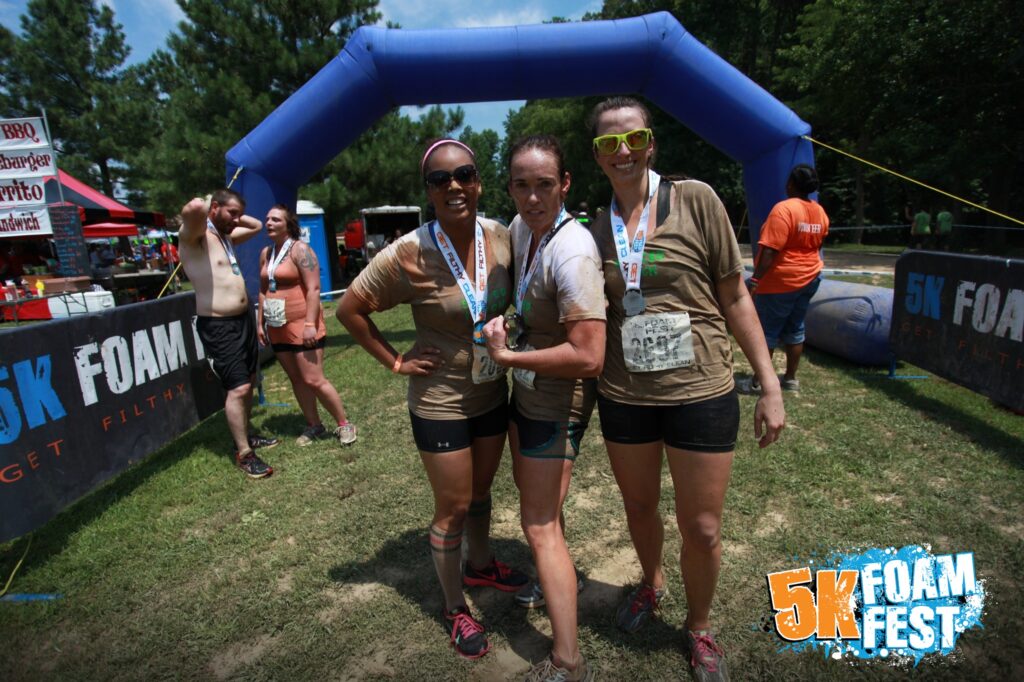 5 Things to Take to a Mud Run
Camera – For my first mud run, I used a disposable, waterproof camera. Once I ran a few of these races, I started taking my "Faux Pro" camera (a.k.a. my DBPOWER action camera – you can find some alternatives here and here – affiliate links) so that I can capture video as well as still shots. It has a waterproof case and a chest strap which I will wear while I'm running. Many mud runs capture photos of you during the race, but you never know how many you'll get that are clear, if there's a cost associated with them, and it's often hard to get action shots. Think of it this way: If your entire body is covered in mud, what's to keep your race bib from being covered in mud as well?
Change of Clothes – This one is a big DUHHHHHHH! You will definitely want to change your clothes as soon as you've washed/hosed off at the conclusion of the race. Please make sure you bring extra bags to store your muddy clothes because we all know that no matter how hard you hose yourself down after the race, those race clothes are gnarly. Shirt, bottoms, socks, undergarments – these are all things you will want to make sure you pack and put into a bag that's not going to get wet or muddy. Many mud races have bag checks or parking spots that are close to the race, so this can be very helpful. Be sure to check the race website in advance to be clear on all of the logistical information.
Trail Shoes – For me, running in my regular running shoes for my first mud run was torturous. Halfway through the race, when I was just soaked in mud, my shoes felt like cement blocks! We also ended up running primarily on trails, so my road shoes were just not ideal. Moving forward, I run in trail shoes for these races, especially since I already know they can handle dirt and mud, and they're super lightweight. If it's rained in the area of the race a few days beforehand, it will likely be extra muddy! Note: Make sure you get fitted for trail shoes!
Extra Towels/Trash Bags – Unless you want your car to be super gross, you will want to pack extra towels and/or trash bags to sit on! One trick is that you can set the trash bags (or even a tarp!) on the seats, then cover them with your towels. That will give you an extra layer of protection for your seats. I suggest bringing both since you can always use the extra towels when you're changing clothes.
Sunglasses – Wearing sunglasses during a mud run is not only to protect you from the sun but also to provide a bit of a protective shield from any mud that might go flying during the race. Whenever I see photos from mud races, and people have their mouths wide open and their faces uncovered, I have to shudder. This doesn't mean that you need to bring your fanciest sunglasses – a pair that can handle a rugged adventure is all you need. I'm a big fan of Goodr sunglasses (affiliate link) for this purpose and pretty much all other fitness activities. Bonus: They come in lots of different styles and colors!
Are there any things you'd suggest bringing to a mud run that wasn't included in my list? Did you ever forget to bring something to a mud run?