Lex Reviews Sports Bras: The SHEFIT Ultimate Sports Bra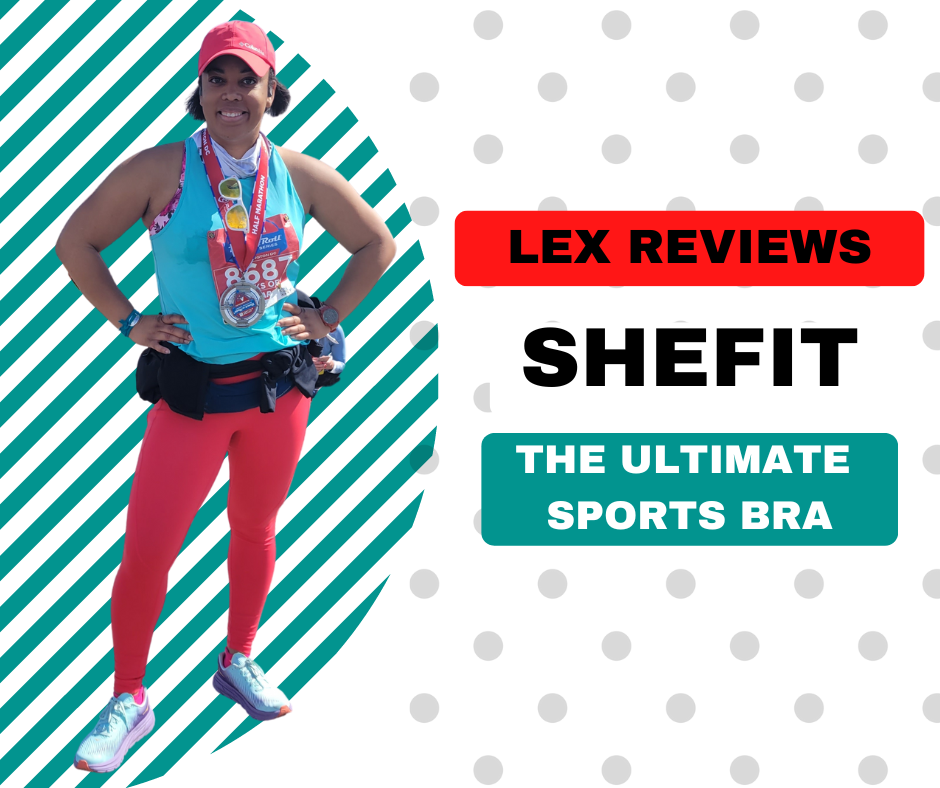 I didn't think it would happen, but here we are: I found my new favorite high-impact sports bra! The Ultimate Sports Bra by SHEFIT is the second sports bra from SHEFIT I've tried as part of this high-impact sports bra review series. Check out my review of The Flex here.
Don't have time to read the full post? Watch my review on YouTube to learn more about this sports bra! Watch my review below.
Please subscribe to my channel and you can stay up to date with all of my sports bra reviews.
Overview
Brand: SHEFIT
Style: The Ultimate Sports Bra
Color: Pink Floral – This print is now on clearance, so there's limited sizing available.
Cost: $75 – It's now on sale in this print for $37.50.
Support/Impact Type: High-Impact (Keep scrolling for more details about how I tested it out.)
Size: Luxe – This is my size for SHEFIT sports bras. Normally, I wear a 34DD/E, which corresponds to Luxe in this brand. This was true-to-size.
Final Score: 5/5
I wish that I had gotten more colors of this sports bra when I originally purchased it because I got my first one during a great sale, plus, for a couple of months there, I wanted to wear this sports bra for all of my high impact activities, which I couldn't do since I obviously needed to wash it! Since this review, I actually went ahead and ordered two more colors in this same style in Berry Pink and Sandstorm.
Fun fact: I wore this sports bra while running my very first marathon – America's Toughest Road Marathon – back in April. That's how much I believe in it. So let's get into this review, shall we?
Check out my previous SHEFIT review to learn about their Flex sports bra.
In addition to the sports bra itself, I received a ribbon hair tie, measuring tape, and a mesh bag to wash my sports bra, which is really important and helps your sports bras last longer. The mesh garment bags have a little protector over the zipper so that it doesn't get snagged in the laundry.
I have this bra in several colors, but I originally purchased it in the floral print, which is now on clearance.
They have a lot more colors available now, and different prints, too. Some of them are $60. Some of them are $75. $75 is a little on the steep end for me, but it is a really great sports bra and I have no complaints about it.
5-Point Rating System
Sizing
This particular high-impact sports bra I've been wearing mostly for running, but sometimes I wear it for volleyball and other activities. I ordered multiples because I want to wear this sports bra daily, and that's too much work with cleaning and hoping it's air-dried in time for my next workout.
I ordered this sports bra in a Luxe, and as I've shared on here before, I wear about a 34 DD or E. Sometimes I feel like it depends on the day, the weather, or how they're feeling to determine which size I wear! (I know, I know. Hormones and all that jazz.)
Sometimes, if a sports bra is sized with letter sizing – which doesn't typically happen with the high-impact bras I purchase but happens with some of the medium-impact bras – I normally wear a size medium. SHEFIT sports bras come in different sizing, so that's how I ended up with a Luxe, which fits perfectly. Make sure you measure yourself and take a look at the sizing chart before placing your order!
If you're not sure how to measure yourself, you can visit a store and get measured. Most stores will do it for free! Nordstrom, Soma, Victoria's Secret – you can head to any of these stores to get a proper fitting.
SHEFIT receives a perfect score on sizing for this sports bra because the sizes are consistent/accurate. There are some brands where that is not the case, but I have two sports bras from SHEFIT, two different impacts but they are the same size and they both fit perfectly. I would even say it fits like a glove!
Bounce
This sports bra holds me in without feeling constricting. There are some sports bras that have so much compression that you feel like you're in some kind of torture device.
With this one, you feel secure, but it's not uncomfortable, and there are a few reasons why I believe that's the case.
The first reason is because of the band at the bottom of the sports bra. It's a nice, thick band, which I love because it doesn't roll up and it offers up some smoothing. The band is adjustable, and it is held in place by velcro.
The next reason is because of how the zipper is designed. It has little pieces of fabric that cover both ends of the zipper, that way the little metal piece of the zipper isn't digging into you. Some brands have a little coverage of the zipper on the top or bottom, but I've never seen both parts covered before.
Further, this sports bra has two hooks to close the front of the sports bra, providing additional support.
Another reason that this sports bra is great is that it has separated cups. At first, I was worried because I do not like removable cups, but the removable cups in this sports bra are fine with me because they don't really move, fold, or cause any of the issues I typically have with removable cups. In fact, I wash the sports bra with the cups in there, and I never have to shift them around or worry about them falling out. (I do not remove them anyway because I'd never put them back in the right way.)
Another cool thing about this sports bra is that it has these criss-cross straps that also have velcro on them, so if you need a little bit more lift or you just need it to loosen up the straps, you can adjust them on the go.
I love that you can adjust this sports bra when it is already on, which is really when you should adjust it because you want to make sure it fits and is snug, but you might find that you want to tighten or loosen the straps over the course of a long run or a volleyball tournament.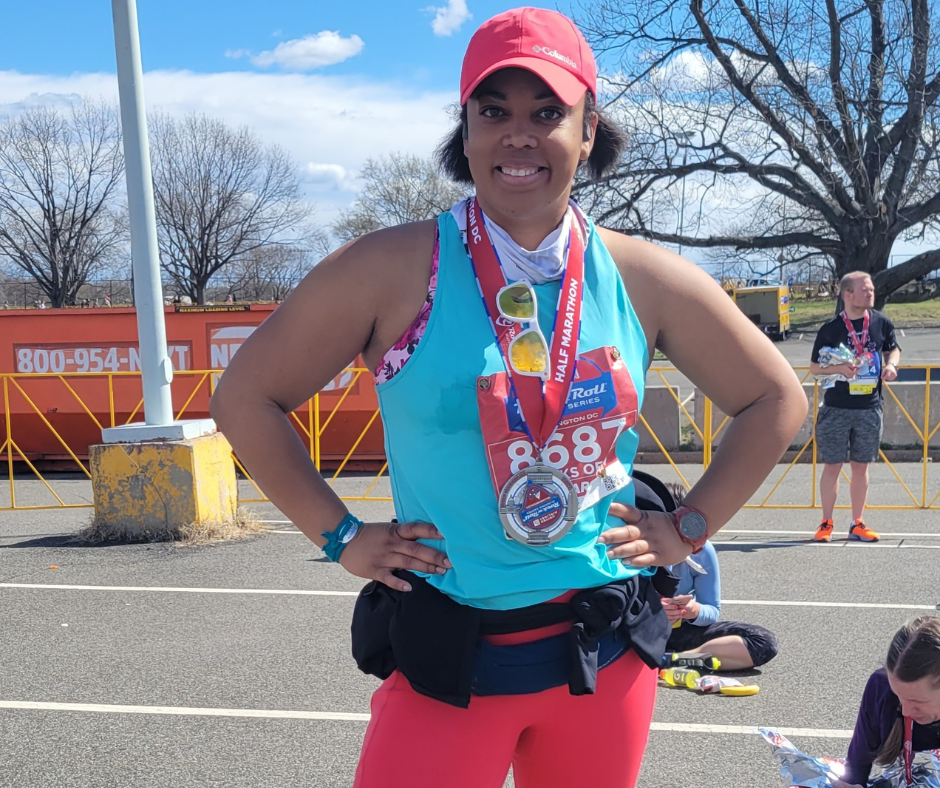 Coverage
This sports bra has full coverage. I don't really have any cleavage when I'm wearing it, which is great in my opinion for high-impact sports bras because you don't want a lot of movement, and I feel that the lower it's cut, the more likely you are to have bounce.
Cut and Style
I've already explained the cut quite a bit, but let's talk for a moment to talk about style.
I like this floral print! It's different from my usual style, PLUS, it was on sale. As I mentioned, SHEFIT has lots of colors and it seems like they're constantly coming out with new colors, and it's my understanding they have a new high-impact style that is going to be coming out soon.
I believe that SHEFIT takes great care in designing their sports bras and making sure they made a good quality product that has a great size selection.
Sweat Factor
I've run 20 miles in this sports bra and when I've taken it off, it has not been sweaty or soggy.
That was a real worry for me because some sports bras don't have enough moisture-wicking and then you just get all sweaty and it just feels raw and painful. I had no problems with this one, which is one of the main reasons why this SHEFIT Ultimate Sports Bra is my new favorite.
Final Thoughts
As I was doing research about high-impact sports bras, SHEFIT came up a lot. It comes up in Google searches, whether you're searching for high-impact sports bras, sports bras for busty women, best sports bras for workouts, etc. they come up at the top of the list. Yes, they have a great marketing team apparently, but they really are great!
I cannot recommend this sports bra enough! Kudos to SHEFIT! I cannot wait to try more of her sports bras and see what they have in store with this next design.
In summary, I give the Ultimate sports bra a 5/5!