Why You Should Get Fitted for Running Shoes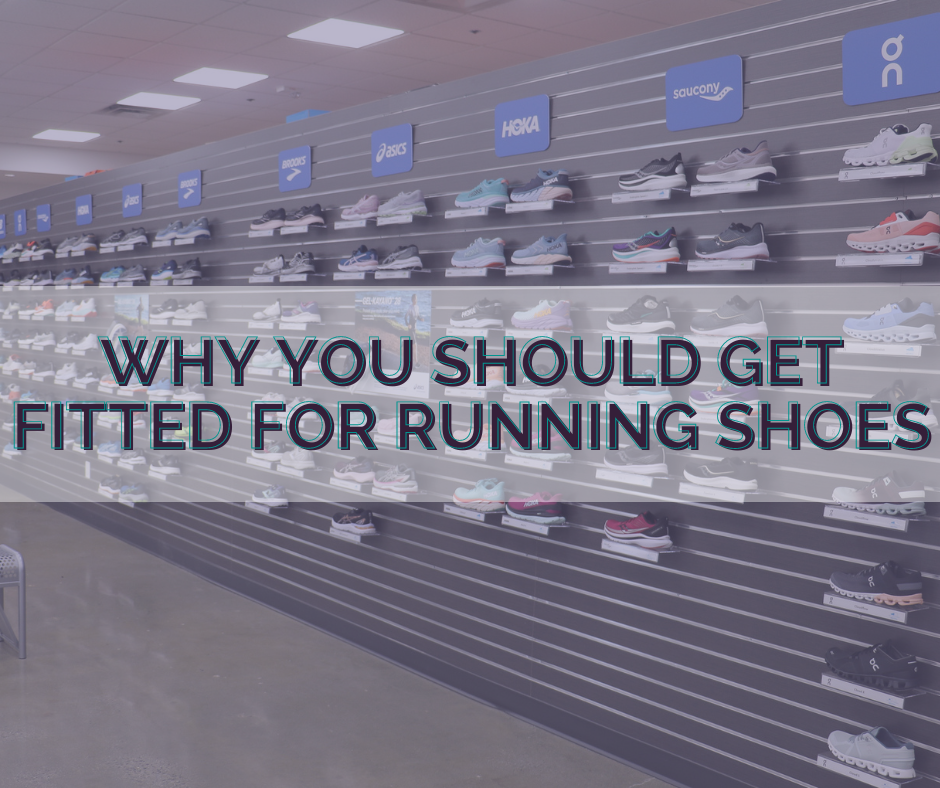 Whether in person or online, people often ask me what kind of running shoes they should get. My answer is always the same: Get fitted for running shoes!
Feet are like snowflakes – each of them is different and they are different for every person.
Further, your feet may change over time. So, what works for me may not work for you, and what works for you this year might not work for you three years down the road.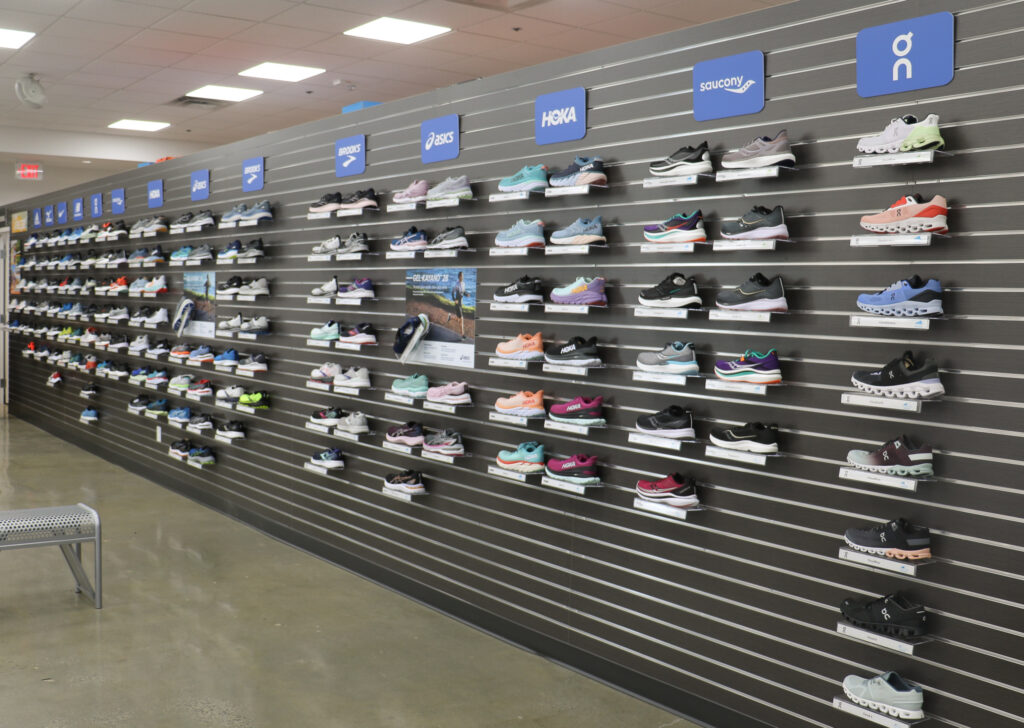 When I first got fitted for a pair of running shoes, it was a totally new experience for me. I had never been fitted for running shoes before. In fact, I hadn't even really owned a pair of running shoes aside from the pair we were given for college volleyball. They said, "here are your volleyball shoes, here are your running shoes, here are your slides. Keep it moving!" (Or something like that…) Of course, that meant we all got the same of everything.
I'm a firm believer that everybody needs shoes that fit their particular activity and that also fit their feet. For that reason, I decided to get a running shoe fitting.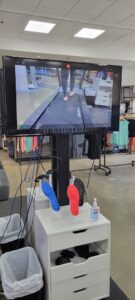 My First Shoe Fitting
What was my first fitting like? I actually cataloged it years ago in a blog post. Apparently, I was very enthusiastic and my mind was blown because I wrote an over-the-top review about it. Cringe.
The key points are that I got my first running shoe fitting ever at Road Runner Sports, which is a running shoe store. They used to call it their Shoe Dog fitting, but they've rebranded it and upgraded it since the last time I got fitted. Nonetheless, they did a fantastic job and I've been buying running shoes from them ever since.
If you're interested in watching my running shoe fitting, check out this Instagram Reel I put together that shows the process.
Didn't watch the video? Essentially, they have you walk or run on a treadmill, and they video record you walking or running, and then assess your gait, pronation, etc. They then measure your shoe size, your foot size, heel width, and the height of your inset.
Fun fact:  I didn't know what an inset was until I got fitted.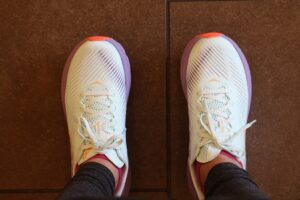 It had been such a long time since I had gotten fitted for running shoes, and the technology has come a long way since then! For example, Road Runner used this cool little 3D drone scanner that you stand on, and it generates some additional measurements.
All in all, I learned a lot about my feet from this running shoe fitting! Granted, I never thought I needed to know that much information. But you know what? It's helpful!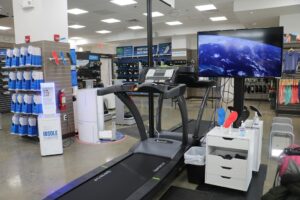 Once I got fitted for my running shoes, they also fitted me for insoles. Road Runner has a few different types of insoles, and the process is quick regardless of the type of insole you settle on. They had me stand on this squishy platform on top of the unmolded platforms, then they had me do some squats and move around a little bit while the insoles were molded to my feet. It was a pretty fun process!
Back to the shoe fitting! Once you get your shoes fitted, the next step is to go and try on some shoes. It's one thing to know exactly what kind of shoe you should be wearing or the fit, etc., but it is another thing to have the right shoes that best suit your needs. For example, maybe you want more cushion less cushion, different laces, a specific style, etc. In short, it's really helpful to try on different shoes after your fitting.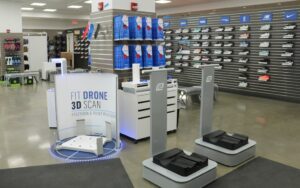 Trying On the Shoes
Even if you have loyalty to a brand, I recommend branching out a little bit and just trying something new. Who knows? Maybe you'll find a new favorite brand. I used to be a loyal Nike Zoom Pegasus runner, but Nike changed the style up so much that I just can't run in them anymore – and those were the only Nikes I could run in, to begin with. 
After looking at a wall of shoes, I decided to give Hokas a try because I'd heard that they have a lot of cushion like my old Nike Zoom Pegasus shoes. I'm so glad I tried something new because I'll be running my marathon in a pair of Hoka Rincons!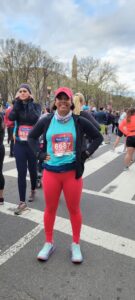 Things to Keep in Mind When Settling On a Pair Of Shoes
When you're trying to pick out shoes to try on, keep in mind what kind of shoes you are looking for. If you're a first-time runner, please know that there are different types of running shoes. There are shoes for running on the road (think pavement, sidewalks, etc.), trail shoes (used for natural surfaces like dirt, grass, etc.), racing shoes, shoes that you wear for long runs, track shoes, and more. It's important to know what kind of shoe you're looking for and how you're going to be using those shoes. 
Once you've figured out what kind of shoes you need, you may find that you need two pairs of shoes running shoes. Running shoes are not cheap, so I encourage you to hunt for good deals. 
While you can get your shoes fitted at local running stores, the fittings are typically free – which is great because it does not mean that you have to go to some fancy place to get it done. (The shoe fitting at Road Runner Sports is offered for free.) If you're not ready to buy, you can check out online deals and even comparison sites and reviews.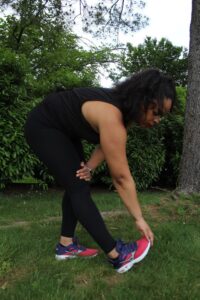 What To Do Once You Buy Your Running Shoes
So, what's next? Go and you hit the road/trails/track in those shoes! Some shoe stores allow you to return or exchange the shoes after you've tested them out, so make sure you check the return policies before you get too wild.
I think that stores that offer returns on running shoes that have already been worn have their customers in mind. When you're in the store, you're only running a few steps really, so it's important to know that you can run in the shoe pain-free.
Do you have questions about running shoe fittings? Tips for finding the best deals on running shoes? Let me know in the comments!