Sometimes I wonder if anybody is reading my blog. I mean, really reading my blog. I can see all of the visitor counts (and the stats are starting to look awesome), but I can never truly tell if anyone is reading it.
Today is the day after Christmas (also known as Boxing Day in many other parts of the world), and I can say that my family members read my blog! I received several amazing health/fitness-related gifts. I am so excited to try all the things and wear all the clothes!
I've had friends ask if it would be rude to receive health-related gifts. No! Of course not! I know some people would be offended by it, but not me. To me, it means that, at a minimum, the people around me love and care about me enough to want me to be healthy. Why should I be insulted? Plus, these are things that are practical, and things I want and/or need!
So, here is a rundown of the health and fitness gifts I received yesterday:
Under Armour Gotta Have It Headband
I have been wanting to try the thicker Under Armour headbands, but just hadn't gotten around to it. When it comes to headbands, I have tried so many different brands, and it is very rare that they work for me. Inevitably, I will be in the middle of a volleyball game and hear, "Hey! Lex! Your headband is over there!" and see my pitiful headband clear on the other side of the court. Ugh.
I was so happy to see this under the tree, though! I received the Cerulean green one (fourth item in the picture) from my parents, and a matching top.
The headband is pretty cool! It has two bands on the inside for gripping to my ever-spiteful hair, and I love the color! I can't wait for my next practice to give it a try and let you all know how it worked out!
Under Armour Women's UA Tech Short Sleeve V-Neck
I absolutely love these shirts, and pick them up whenever I see them on sale! They always come in awesome colors, and they're just so comfortable! It's always hard to tell in photos how low cut a shirt might be, but I assure you that these are not cut as low as they look. As a woman with ample bosoms (ew) who plays a sport that requires a ton of jumping, I have not even come close to having an "incident."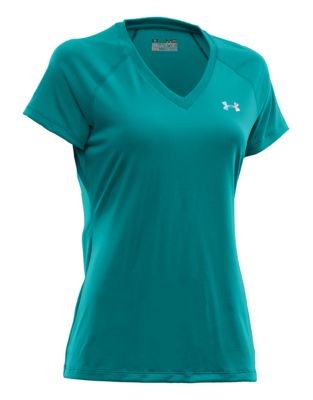 I'm especially happy about this shirt because it's not blue! I'm not sure why, but any time I have the guts to post a photo of myself working out, I'm always wearing blue! I dunno what's up with that! Blue isn't a color I wear especially more than any other color in my professional clothes, so I'm not sure how it's turning out that way with my workout clothes.
Any-who, green is one of my favorite colors, and this is such a pretty shade. Funny enough, my parents also got The Boyfriend a matching one in the men's crew neck style. His was more of a cotton blend, but it was a pretty cool shirt nonetheless.
My sister got me this awesome cookbook that I cannot wait to start using and sharing photos/reviews with all of you!
There are so many recipes in this book that sound delicious and are often under 200 calories for an entire meal. I also love the gratuitous use of cheese (
Laughing Cow
, more specifically). Stay tuned for more on this one!
My sister also gave me a pink Aqua Zinger for Christmas! I love infusing my water with fresh ingredients. One of my favorites is to slice up a lime, throw in some cilantro, and pour water over it. Yum! This makes it even easier, and allows me to do it on the go!
Check out this link to see a video on how it works!
This probably won't excite most people, but it excited me! I've always wanted one so that I can grind different spices and make some more exotic sauces. This will come in handy as I work towards my goal of cooking at home most days of the year.
Any recommendations for the first recipe I should attempt with my new mortar and pestle?
Two Top Secret Gifts:
I can't wait to share with you all two gifts I received from The Boyfriend that are going to elevate my 2014 into the best year ever! I can't tell you now, though… You'll just have to wait patiently. 😉
Did you receive any health or fitness gifts this year? What were your favorites?