Three Goals for This Week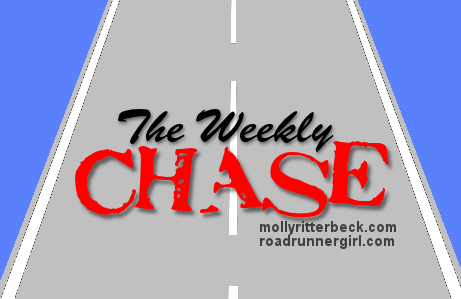 JKLEJRMNVMDBJHWHJRKLERMWMR: That's how I would describe this week so far. It is only Monday, and I am exhausted. You know how you can get into a deep funk, and it can be hard to pull yourself out of it? That's where I am right now. I just want to get out of this funk, man! I'm worn out!
Alright, so now that I got that off my chest, let me tell you what today's post is about.
I decided that I wanted to try a new linkup, so here we are! Today, I'm joining The Weekly Chase Linkup, which is hosted by Mindy of The Road Runner Girl. The idea is to share your goals for the week, then check in next week to see how you did.

Goals for the Week
This week, I'd like to take two yoga classes to help de-stress. I usually take at least one class a week (usually on Fridays), but I'd really like to try to get two in this week. I'm really getting into my yoga practice, and I really wish I could've gotten some in over the last three days; it really would have made a difference with regard to how I'm feeling this evening.
Last Thursday, I went on my first group run with the Montgomery County Road Runners Club (MCRRC). I'm a member now, so I figured I should start taking advantage of the opportunities available through the club! I learned quite a few things about running, MCRRC, and local races through this 4.3ish mile run. This was the longest I'd run in a while, and it was hillier than I was expecting, so I was happily sore for a couple of days afterwards. I'd like to try to get at least one MCRRC run in this week, but two would be great! This week is going to be a bit wacky, so I'm going to set one group run as my goal, to be realistic.
After finishing my first MCRRC group run.
I really want to get out of this funk. I have set a goal to take a day – or even just one evening – to myself to unplug from social media and my phone and just do what I want to do. Whether that means reading a book somewhere outside or watching some ridiculous reality show, it doesn't matter. I really need to get better about reserving some "me time" so that I don't go bonkers!

So, there you have it! Let's see if I can check off everything on my list for this week! Wish me luck! And I wish you all an amazing week ahead!
What are your goals for the week? Do you take enough time for yourself? What helps you mellow out or take you out of a funk?