Fit Fashion: April 2022 In Fabletics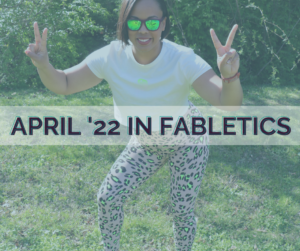 Fabletics
just keeps on winning and innovating! April brought with the new Yitty line – a collaboration with Lizzo – swimwear, a collaboration with Vanessa Hudges, and more.
I had a chance to take a look through their April Lookbook, and I was excited to see different colors and prints!
For April, I received the Amped 2-Piece Outfit, featuring the Define Ultra High-Waisted 7/8 Legging in the PowerHold material (my favorite), and the On-The-Go Medium-Impact Sports Bra, as well as the Baby Crop Tee – all courtesy of
Fabletics
. This outfit was part of the Vanessa Hudgens limited-edition collection.
I made a quick
TikTok
to show the outfit here: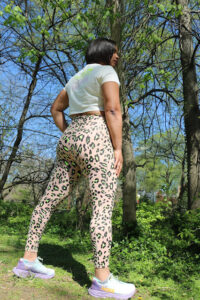 Define Ultra High-Waisted 7/8 Legging
In addition to a super cute pattern, these leggings feel amazing! The PowerHold fabric is my favorite for their leggings, so I was thrilled when I received them. They're comfortable and have the perfect amount of compression! I can wear their PowerHold leggings for just about any fitness activity – they're that good!
Because I don't have the longest legs, I really like 7/8 leggings. I'm certainly not petite, but at 5'6.5″ (yeah, that half means a lot to me), I'm not the tallest. 7/8 leggings normally are about full-length for me. Hence, my love for the 7/8 length!
On-The-Go Medium-Impact Sports Bra
This sports bra matches the leggings, and features a pocket in the back. I don't go shirtless enough to use these pockets on sports bras, but I know plenty of women who appreciate having a sports bra pocket! (If I go shirtless, it's normally when I'm running, and I wear
high-impact sports bras
when I'm running.)
Medium-impact sports bras are the types that I wear the most, since they're great for indoor cycling, and I often wear them for yoga.
Fabletics
makes pretty solid medium-impact sports bras, and I mostly wear their brand.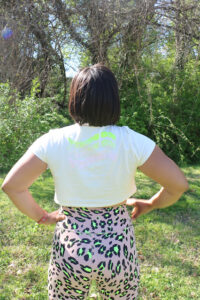 Baby Crop Tee
I don't love the cut and length of this sports top, but the print is cute! I am too busty to be wearing boxy crop tops, so I should've known better. Nevertheless, I think it would look great on someone who is smaller up top.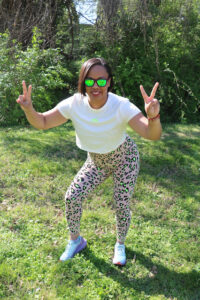 Final Thoughts
This is a great outfit for this transitional season! The leggings aren't too thick or too thin, the tee is a nice lightweight material, and everything feels breathable. If you're looking to punch up your wardrobe with some prints and bright colors, I definitely recommend checking out the Amped Outfit!
Have you tried out Fabletics? What is your favorite length of leggings? Do you have a favorite look you go for in the transitional months?